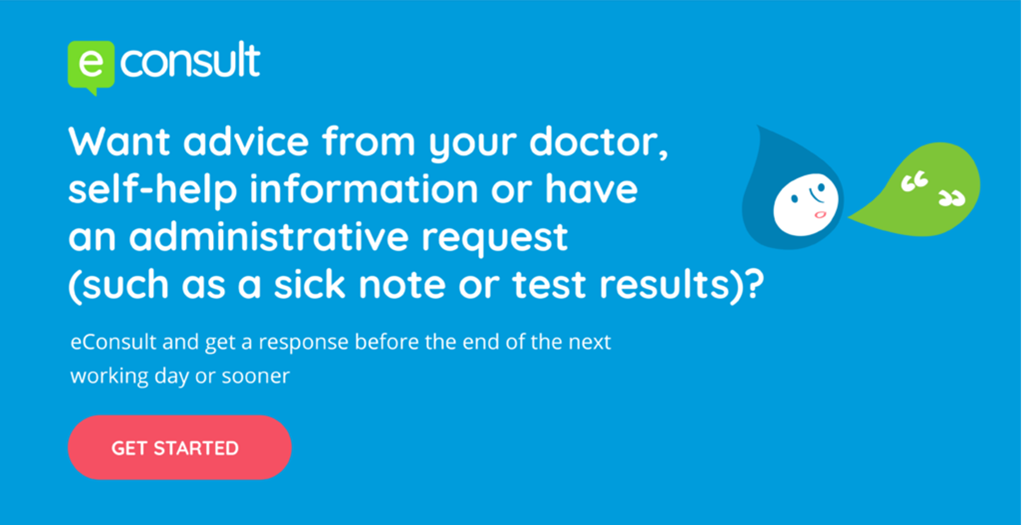 Appointments System
Appointment Triage
Because of the latest advice regarding Coronavirus Covid-19, we will not bring any patient to the surgery for a face to face appointment until they have had a telephone consultation first. All appointments will be triaged by a GP. If you have any symptoms please refrain from coming to the practice, please follow the link for more details https://www.nhs.uk/conditions/coronavirus-covid-19/
Appointments
We offer a range of different appointments to try to provide flexibility for our 4100 patients to access an appointment appropriate to their needs. Appointments can be booked online, by telephone 01642 606490 and in surgery.
Receptionists – the gateway to the service The receptionist is instructed to ask you for brief details of your problem. We understand there may be occasions when you would prefer not to share personal medical information but if you feel able to do so it will help the receptionist direct you to the most appropriate health care professional. You can be assured that all staff are trained and contractually obligated to keep anything you do disclose confidential.
Please note we record all phone calls for quality monitoring, training, compliance and security purposes.
The appointments line is available Monday to Friday between 08:30 and 18:00: Please note if you call on a routine matter on an afternoon and all routine appointments have been taken you may be asked to call back the following morning when new appointments are released.
You will be offered the first available appointment with your doctor. We do not offer appointments any further ahead than 2 weeks and these are limited in number. The majority of the appointments will be available for 2 working days time and these are released exactly 2 working days ahead of time.
There a limited number of two week appointments available to book online. We also offer an e- consult service for routine matters.
Urgent cases will normally be seen on the same day if you ring as early as possible. You will be told when to come down and should be prepared to wait to see the doctor.
Your responsibilities to us are:
Only one patient per appointment.
To attend punctually for appointments.
To cancel if you are unable to attend.
Not to request urgent appointments for routine matters.
Referrals
From time to time, it may be necessary to refer patients to a consultant for further care. We will do our utmost to ensure referral letters are sent promptly from the practice.
Your responsibilities to us are:
To ensure that you keep the practice informed of any change of name, address or telephone number so that hospital mail will reach you at the correct address.
To take responsibility for making your own appointment if referred using the Choose and Book system and for making the appointment promptly to avoid costly automatic reminders being generated.
To recognise that there may be some delay before you receive an appointment, which is usually outside our control.
Home Visits
If you need the doctor to visit you, please ring Stockton 01642 672351 before 10:30. Please do not ask for home visits after this time unless it is an emergency. The receptionist will ask for the patient's details - name, address and telephone number, also brief details of the patient's problem. Any information will be dealt with in strictest confidence.
What circumstances a Home Visit is justified:
The doctor will only undertake a home visit if the patient is too ill to be brought to the surgery.
Criteria used in assessing a request for a home visit:
Doctors will only undertake home visits when they have made a reasonable opinion that a visit is required on medical grounds:
a) Does the patient have a medical condition which requires the doctor to see them?
b) Is it inappropriate on medical grounds for the patient to attend surgery?
Your responsibilities to us are:
Not to request a home visit unless the patient is too ill to be brought to the surgery.
To ensure that requests for home visits are made as early as possible and preferably before 10:30 am.
Cancel an Appointment
It is important that you inform the reception staff if you are unable to attend your appointment, this will allow that appointment to be offered to another patient. If you fail to notify the Practice that you are unable to attend, you will be sent a letter informing you that you have defaulted from your appointment. Persistent defaulters maybe removed from the list.
Text Reminder Service
We have a texting service which allows you to receive confirmation and reminders about your appointments.
To have this service you will need to register by completing a consent form.
Please remember to update your contact details with us when you change address, telephone numbers and email address.
Extended Access Hubs
Evening and Weekend Appointments at 'Hub' sites.
If you find it difficult to attend a GP appointment during normal surgery hours ask our receptionists to book an evening (up to 20:00) or weekend appointment for you at one of our Hub sites at:
Tennant Street Medical Practice in Stockton
Woodbridge Practice in Ingleby Barwick
Chadwick Practice in Hartlepool
The Hub sites also provide a full range of nurse and health care assistant appointments - for example, patients who suffer from a long-term condition but struggle to attend a review. Healthcare professionals working in the hubs can access medical records with the patients' consent.